The ethics of assisted reproduction…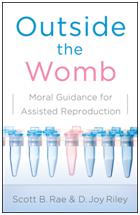 The new reproductive technologies produce a host of profound moral questions, as illustrated in the posts from the two previous days.  For a thorough survey of assisted reproduction from an evangelical Christian perspective, see Outside the Womb: The Ethics of Reproductive Technologies by Dr. Scott Rae and Joy Riley, MD.  This volume discusses the theology, the ethics and the technologies of assisted reproduction.
Part I:  Laying the Foundation
1: The Experience of Infertility
2: Theology of Family and Procreation
3: Catholic Natural Law and Procreation
4: The Moral Status of Fetuses and Embryos
Part II:  Evaluating Procedures
5: Intrauterine Insemination and Egg Donation
6: GIFT, ZIFT, and IVF
7: Surrogate Motherhood
8: Prenatal Genetic Testing
Scott Rae, Ph.D. is professor of Christian ethics and chair of the philosophy of religion and ethics department at Talbot School of Theology.
D. Joy Riley, MD is a physician in the Nashville area and the executive director of the Tennessee Center for Bioethics & Culture.