October 12, 2006
---
Developing the technology necessary for individualized, genetics-based medicine...
UCSD Developing New Genome Sequencing Technology
<![if !vml]>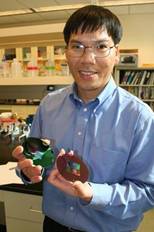 <![endif]>
UCSD Jacobs School of Engineering bioengineering professor Xiaohua Huang wants to sequence a human genome on a laboratory the size of a business card at a cost of only $1,000.
"The current cost to determine the sequence of nucleotide bases in the 6-billion-base-pair human genome is roughly $10 million, but researchers at UC San Diego and eight other universities and biotech companies hope to use a federal grant to lower the cost to only $1,000 per human genome sequenced. Determining the genome sequence of individuals is considered crucial to understanding and routinely treating hundreds of inherited diseases, predispositions to other diseases, and cancers.
"In order to spur the development of fundamentally new and innovative technologies necessary to reduce the cost of sequencing a genome 10,000-fold, the National Human Genome Research Institute (NHGRI) has awarded $13 million in new grants to nine universities and corporate groups in the U.S., including UCSD. The institute, which is part of the National Institutes of Health (NIH), is using the grant program as an incentive to expand the routine use of genomics in medical research and health care.
"Xiaohua Huang, a professor of bioengineering in UCSD's Jacobs School of Engineering, leads the effort at UCSD to develop a promising technology that shrinks what is currently being done in large genome-sequencing laboratories down to a glass slide the size of a business card. Huang's team will combine micro- and nano-fabrication technologies with innovative chemistry technologies to simultaneously sequence more than 1 billion individual pieces of DNA attached to the surface of single slides.
"The latest genome-sequencing grant was announced simultaneously with the announcement of the Archon X PRIZE for Genomics, a $10 million cash prize to go to the first team that creates the technology to successfully map 100 human genomes in 10 days. The X PRIZE Foundation is a non-profit institute dedicated to fostering radical breakthroughs in space and technology for the benefit of humanity...."
USCD Jacobs School of Engineering – October 9, 2006
Please forward this e-mail to anyone who might be interested in staying abreast of the rapidly changing developments in biotechnology and the related area of bioethics. For more information on The Humanitas Project, contact Michael Poore, Executive Director, at 931-528-2408 or . Or visit The Humanitas Project web site at www.humanitas.org.
"All of the breast cancer gene mutations found so far explain only 25% of inherited breast cancer risk...."
New Breast Cancer Gene Discovered
Mutation in BRIP1 Gene Doubles Risk, Researchers Say
"A newly discovered breast cancer gene mutation doubles a woman's risk of breast cancer, U.K. researchers report.
"That's a significant risk—but not nearly as big as the 10- to 20-fold risk conferred by the already known BRCA1 and BRCA2 mutations, note Nazneen Rahman, MD, PhD, and colleagues at the Institute of Cancer Research in Sutton, England.
"The newly discovered mutation, BRIP1, carries about the same risk as the already known CHEK2 and ATM gene mutations. Like the scarier BRCA mutations, all of these genes are involved in DNA repair...."
---
The difficulty of foreseeing and foretelling the future...
Kissing Hospice Goodbye
Art Buchwald's Case Is Unusual, but Leaving 'End-of-Life' Care Without Dying Is Not
"For many people, the word 'hospice' conjures up the mythical Hotel California in the hit song of the same name: 'You can check out any time you like, but you can never leave.'
"But as the experience of humorist Art Buchwald demonstrates, entering a hospice doesn't invariably mean leaving in a hearse.
"Buchwald, whose doctor told him he would probably live only a few weeks after he checked into the Washington Home hospice last February after refusing dialysis for his failing kidneys, left five months later still very much alive. He spent the summer seeing family and friends at his summer home on Martha's Vineyard, resumed his column and even signed a contract for a new book, due out in November. Several weeks ago, Buchwald, who is due to turn 81 later this month, returned to his home in the District, where he is finishing the book, titled 'Too Soon To Say Goodbye.'
"While the circumstances of his case are unusual, his departure from hospice is not...."
Washington Post – October 3, 2006 (Free Registration Required)
---
Assessing the side-affects of chemo therapy...
Chemo Has Long-Term Impact on Brain Function, Study Finds
<![if !vml]>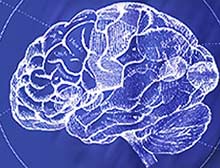 <![endif]>
"Chemotherapy causes changes in the brain's metabolism and blood flow that can last as long as 10 years, a discovery that may explain the mental fog and confusion that affect many cancer survivors, researchers said on Thursday.
"The researchers, from the University of California, Los Angeles, found that women who had undergone chemotherapy five to 10 years earlier had lower metabolism in a key region of the frontal cortex.
"Women treated with chemotherapy also showed a spike in blood flow to the frontal cortex and cerebellum while performing memory tests, indicating a rapid jump in activity level, the researchers said in a statement about their study.
"'The same area of the frontal lobe that showed lower resting metabolism displayed a substantial leap in activity when the patients were performing the memory exercise,' said Daniel Silverman, the UCLA associate professor who led the study.
"'In effect, these women's brains were working harder than the control subjects' to recall the same information,' he said in a statement...."
---
The legal battles have begun—challenging the patents covering the discovery of embryonic stem cells...
Agency Agrees to Review Human Stem Cell Patents
"The United States Patent and Trademark Office has agreed to re-examine the validity of fundamental patents on human embryonic stem cells granted to a scientist at the University of Wisconsin.
"The decision, disclosed on the agency's Web site, could lead to a narrowing or even a rescission of the three patents, which some scientists and consumer groups say are hindering research into a fledgling field that holds great medical promise.
"The request for re-examination was filed in July by the Foundation for Taxpayer and Consumer Rights, a California consumer group, and the Public Patent Foundation, a New York organization advocating patent reform.
"The patents are based on work by a University of Wisconsin scientist, James A. Thomson, who was the first to isolate human embryonic stem cells...."
New York Times – October 4, 2006
Editor's Note: The patenting of new discoveries is an important and complicated part of scientific research, about which most of us know very little. Writing in the Winter 2006 edition of The New Atlantis, Misha Angrist and Robert M. Cook-Deegan provide an excellent overview of the patenting process, which became increasingly complicated in the 1970s when the government began encouraging university scientists to reap the commercial benefits of their research. The Bayh-Dole Act of 1980 enabled academic researchers to pursue patents on discoveries made using federal funds. These inventions could then be licensed to private firms for commercialization. Another landmark patent decision occurred in 1980 when the U.S. Supreme Court gave the go-ahead for patenting genetically modified organisms in Diamond v. Chakrabarty. "Who Owns the Genome?" by Misha Angrist and Robert M. Cook-Deegan is available at The New Atlantis website.
In an interesting section entitled "File Now, Fight Later," Angrist and Cook-Deegan discuss patenting complications surrounding the development of RNA interference (RNAi) technology, the subject of the following news story.
---
Recognizing the discovery of a very important tool in developing genetics based medicine...
Nobel-Winning Technology Already an Industry
"RNA interference, whose discovery brought Americans Andrew Fire and Craig Mello the Nobel Prize in Medicine on Monday, is one of the hottest new areas of biotechnology and has spawned its own mini-industry.
"The two researchers discovered that little pieces of genetic material called RNA could silence genes—turning them off and altering a cell's functions.
"Plants use the mechanism to fight off viruses and the discovery is being exploited by labs and companies around the world to try to find cures for cancer, certain types of blindness, and even bird flu....
"Less than a decade after Mello and Fire made their discovery in 1997, trials using RNA interference, or RNAi, to treat people are already under way.
"'It has led to clinical trials on age-related macular degeneration but also there are trials for diabetes and HIV and influenza and most anything you can imagine where we know enough to know that overexpression of particular genes is important,' Berg said...."
Reuters/ABC News – October 2, 2006
---
Taking a closer look at those genetic tests that are used to recommend diet and exercise programs...let the buyer beware!
Nutrigenetic Testing
Tests Purchased from Four Web Sites Mislead Consumers
What the GAO Found
<![if !vml]>

<![endif]>
"The results from all the tests GAO [Government Accountability Office, the investigative arm of Congress] purchased mislead consumers by making predictions that are medically unproven and so ambiguous that they do not provide meaningful information to consumers. Although there are numerous disclaimers indicating that the tests are not intended to diagnose disease, all 14 results predict that the fictitious consumers are at risk for developing a range of conditions.... However, although some types of diseases, such as cystic fibrosis, can be definitively diagnosed by looking at certain genes, the experts GAO spoke with said that the medical predictions in the tests results can not be medically proven at this time.
"Even if the predictions could be medically proven, the way the results are presented renders them meaningless. For example, many people 'may' be 'at increased risk' for developing heart disease, so such an ambiguous statement could relate to any human that submitted DNA.
"Results from the tests that GAO purchased from Web sites 1 and 4 further mislead the consumer by recommending costly dietary supplements. The results from the tests from Web site 1 suggested 'personalized' supplements costing approximately $1, 200 per year. However, after examining the list of ingredients, GAO found that they were substantially the same as typical vitamins and antioxidants that can be found in any grocery store for about $35 per year. Results from the tests from Web site 4 suggested expensive products that claimed to repair damaged DNA. However, the experts GAO spoke with stated that there is no 'pill' currently available that has been proven to do so. The experts also told us that, in some circumstances, taking supplements such as those recommended may be harmful...."
Government Accountability Office – July 27, 2006
---
"The scandalous violations...were most flagrant in geriatric, rehabilitation and psychiatric hospitals..."
Doctors Allegedly Abuse Elderly Patients
"Four senior doctors at the Kaplan Medical Center's Harzfeld Rehabilitation Hospital, who are suspected of carrying out illegal medical experiments on hundreds of elderly patients, faced the inside of a court room for the first time Monday evening. Police said that the charges issued against them could include abuse of helpless victims, assault under aggravated circumstances, causing death through negligence, fraud, forgery, and obstruction of an investigation, and added that additional suspects would be investigated in the coming days.
"On Monday morning, the four, including Kaplan Medical Center's former assistant director Shmuel Levy, were brought to the National Fraud Squad's Bat Yam offices for questioning. Investigators believe that the four were involved with experiments that were carried out on elderly patients—often suffering from degenerative dementia—who were hospitalized at the facility.
"Police said that the experiments were carried out illegally and without notifying or obtaining the permission of the patients' families. According to suspicion, at least one elderly woman died as a result of the experiments, which were allegedly conducted between 2000-2003...."
The Jerusalem Post – October 9, 2006
---
Non-toxic, biodegradable, and works in less than 15 seconds...
Nanosolution Halts Bleeding
A biodegradable liquid developed at MIT and the University of Hong Kong offers a new way to quickly treat wounds and promote healing.
"A team of researchers at MIT and the University of Hong Kong have developed a biodegradable liquid that can quickly stop bleeding.
"Composed of peptides, the liquid self-assembles into a protective nanofiber gel when applied to a wound. Rutledge Ellis-Behnke, research scientist in the department of brain and cognitive sciences at MIT and Kwok-Fai So, chair of the department of anatomy at the University of Hong Kong, discovered the liquid's ability to stop bleeding while experimenting with it as a matrix for regrowing brain cells in hamsters.
"The researchers then conducted a series of experiments on various mammals, including rodents and pigs, applying the clear liquid agent to the brain, skin, liver, spinal cord, and femoral artery to test its ability to halt bleeding and seal wounds.
"'It worked every single time,' said Ellis-Behnke. They found that it stopped the bleeding in less than 15 seconds, and even worked on animals given blood-thinning medications.
"The wound must still be stitched up after the procedure; but unlike other agents designed to stop bleeding, it does not have to be removed from the wound site...."
Technology Review – October 10, 2006
---
Worth considering...
from Gifts of the Body
by Gilbert Meilaender
<![if !vml]>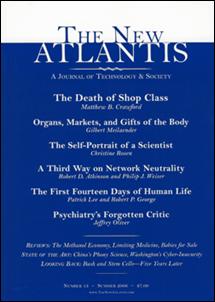 <![endif]>
"In many realms of life there are questions that never really go away. We address them more or less satisfactorily, and, for a time, they recede from the center of our attention. Yet, because they are important, they are likely to reappear and again demand our consideration. In the realm of bioethics one such question is whether it could be right to increase the supply of organs for transplant by providing financial incentives for those who supply their organs or, even, by establishing some kind of market for the sale of organs. (Whether the market should work only for sellers or for buyers also is, of course, one aspect of this recurring issue.)
"Such questions have received attention in the past, but in recent years—fueled by longer waiting lists for transplantation—they have returned to the center of bioethical concern....
"The questions that need asking are not aesthetic but anthropological, and it would be a shame if we were to become tone deaf to such questions, however difficult to articulate they may be. So, for instance, we must ask: Even if we simply assume that there is a shortage of organs for transplant and that it is imperative that we overcome this shortage, how would we decide whether a market in organs was an acceptable way to meet that imperative? How decide without first asking ourselves what organs and bodies are? Or, how decide without asking ourselves who the person is who, with a kind of sovereign freedom, disposes—whether by gift or by sale—of bodily organs? After all, not everything is for sale, and we cannot decide whether a thing is a commodity that could properly be marketed without thinking about the kind of thing it is.
"We are reluctant to think through such concerns, however, for we sense that they may raise disquieting questions about organ transplantation generally. So we are tempted to let them slide, and we prefer to begin in the midst of things, with particular questions that seem (even if deceptively so) more manageable...."
"Gifts of the Body" was published in the Summer 2006 edition of The New Atlantis and is available online. Gilbert Meilaender holds the Richard and Phyllis Duesenberg Chair in Theological Ethics at Valparaiso University and is a member of the President's Council on Bioethics.
---
---
Living in the Biotech Century is produced, twice monthly, by The Humanitas Project. Please note that after a period of time, some web pages may no longer be available due to expiration or a change of address. Other pages may still be available, but only for a fee.
The views expressed in these resources are not necessarily those of The Humanitas Project. Our goal is to provide access to information from various sides of the debate. Ethically and morally, The Humanitas Project unapologetically defends both human dignity and the sanctity of human life in all contexts, from the vantage point of historic Christianity.
Feel free to forward this e-mail to anyone who might be interested in these issues. To subscribe or unsubscribe to Living in the Biotech Century, visit our website at www.humanitas.org, or e-mail . The Humanitas Project is a 501(c)3 nonprofit organization, and all gifts are tax deductible. For more information on The Humanitas Project, contact Michael Poore, Executive Director, at 931-528-2408 or .