November 17, 2006
---
Keeping babies from being born too soon...
Ahead Of Their Time
How doctors are rethinking the growing problem of preterm births—by focusing on the moms, not the babies
<![if !vml]>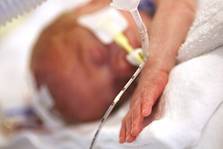 <![endif]>
David Degner for Time
Zach Noble, born three months premature, now weighs 2 lbs. 5 oz. but still needs a ventilator to help him breathe.
"In the U.S., one of the richest countries in the world, the number of babies born too early keeps going up—and with all their medical savvy, doctors can't figure out why. Today nearly 13 out of every 100 births are premature, an increase of 30% over the past 20 years. Part of that rise is due to the advent of modern fertility treatments, which caused a sharp jump in the number of twins, triplets and higher multiples—most of whom are born early. But it turns out that 83% of preemies in the U.S. are singletons whose prematurity can be caused by any number of factors, including bacterial infections, ruptured membranes, cervical abnormalities, high blood pressure, stress, inflammation and the effects of smoking and alcohol consumption.
"So now doctors are starting to rethink their approach to the problem of prematurity, which is defined as being born at least three weeks shy of a full 40-week term. Rather than focusing primarily on the care of the newborn, they are going back to the beginning of pregnancy and paying a lot more attention to the health of the mother...."
Please forward this e-mail to anyone who might be interested in staying abreast of the rapidly changing developments in biotechnology and the related area of bioethics. For more information on The Humanitas Project, contact Michael Poore, Executive Director, at 931-528-2408 or . Or visit The Humanitas Project web site at www.humanitas.org.
If translated to humans, this technology would require taking developing stem cells from aborted babies...
Blind Mice See Again after Cell Transplants
Research could lead to new treatments of human eye diseases
"British and American scientists have restored vision in blind mice by transplanting light-sensitive cells into their eyes in a breakthrough that could lead to new treatments of human eye diseases.
"The mice suffered from eye damage called photoreceptor loss which occurs in macular degeneration, the leading cause of sight loss in the elderly, and other eye disorders.
"But instead of using stem cells, which could form into any cell type, the scientists transplanted cells that had reached a later stage of development towards becoming photoreceptor cells...."
MSNBC/Reuters – November 8, 2006
---
Interesting and important questions about some popular medical treatments...
When Blind Faith in a Medical Fix Is Broken
"A blocked artery is not a good thing. Public health campaigns have drilled that message into the national psyche. Surely, then, whenever doctors find a closed artery, especially in the heart, they should open it.
"Maybe not. A major study, presented Tuesday at a medical conference in Chicago, challenged the widespread use of tiny balloons and metal stents in people who had suffered heart attacks days or weeks before.
"Although such treatment can be lifesaving in the early stages of a heart attack, the study found that opening the artery later did no good at all. It merely exposed patients to the discomfort, risk and $10,000 expense of an invasive procedure.
"The new report is the latest example of a rigorous experiment turning medical practice on its head by proving that a widely accepted treatment is not the great boon it was thought to be (except maybe to the bank accounts of doctors, drug companies and makers of medical devices).
"Ideally, treatments, operations and diagnostic procedures should be thoroughly tested before they come into routine use. But that is not always the case. Drugs and medical devices have to be approved by the Food and Drug Administration, but once they are on the market, doctors can prescribe them in almost any way they see fit, a practice called off-label use...."
The New York Times – November 16, 2006 (free registration required)
---
How difficult it is to imitate nature!
Scientists Build World's First Artificial Stomach
High-tech box simulates human digestion—it even vomits
<![if !vml]>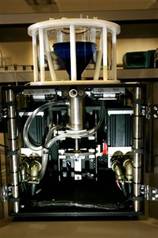 <![endif]>
Lefteris Pitarakis / AP
British scientists have built what they say is the world's first artificial gut: a shiny, high-tech box that physically simulates human digestion.
"British scientists have built what they say is the world's first artificial stomach: a shiny, high-tech box that physically simulates human digestion.
"Constructed from sophisticated plastics and metals able to withstand the corrosive acids and enzymes found in the human gut, the device may ultimately help in the development of super-nutrients, such as obesity-fighting foods that could fool the stomach into thinking it is full.
"'There have been lots of jam-jar models of digestion before,' said Dr. Martin Wickham of Norwich's Institute of Food Research, the artificial gut's chief designer, referring to the beakers of enzymes typically used to approximate the chemical reactions in the stomach.
"Wickham's patented artificial gut is a two-part model that is slightly larger than a desktop computer. The top half consists of a funnel in which food, stomach acids and digestive enzymes are mixed. Once this hydration process is finished, the food gets ground down in a silver metal tube encased in a dark, transparent box.
"Software sets the parameters of the artificial gut—how long food remains in a particular part of the stomach, predicted hormone responses at various stages, and whether it is an infant or adult gut...."
MSNBC/The Associate Press – November 10, 2006
---
Resuming gene-therapy trials in humans...
Gene-Therapy Optimism, Despite Tucsonan's Death
"A novel gene therapy that uses a genetic version of a Trojan horse has shown promise in fighting the AIDS virus, a coup in a field crippled by disappointments and setbacks.
"The therapy is being tested at the University of Pennsylvania, where the 1999 death of 18-year-old Tucsonan Jesse Gelsinger still casts a pall.
"His death, the first in a gene-therapy experiment, triggered a nationwide halt in human testing of such treatments amid revelations of ethical and regulatory lapses.
"Seven years later, a team led by Penn's Carl June and Bruce Levine has achieved a gene-therapy tour de force: It has removed some infection-fighting 'T cells' from five HIV patients, inserted a gene into the cells to stop the AIDS virus from reproducing, then multiplied the modified T cells and put them back in the patients...."
Arizona Daily Star – November 7, 2006
---
Giving birth to the world's oldest baby...
Baby Born a Record 13 Years after Embryo Was Frozen
"The child could have been born in 1993 but its first experience of the world came 13 years later, or nine months after an embryo was pulled out of the freezer at a Spanish fertility clinic.
"The clinic in Barcelona is claiming the world record for having brought about the birth of what could be termed the world's oldest baby. Conceived in a laboratory dish, but not used at the time, the embryo sat at minus 196C in a freezer cabinet awaiting its adoptive parents.
"The original parents had donated the fertilised egg to the Instituto Marqués clinic after a sibling was born from a separate embryo successfully implanted in the mother's womb. In the meantime the baby has missed the first 13 birthday parties of a sibling who, under other circumstances, might have been considered a non-identical twin...."
The Guardian – November 4, 2006
---
Debating the killing of sick babies in Britain...
Obstetricians Call for Debate on Ethics of Euthanasia for Very Sick Babies
"Doctors involved in childbirth are calling for an open discussion about the ethics of euthanasia for the sickest of newborn babies. The option to end the suffering of a severely damaged newborn baby—who might have been aborted if the parents had known earlier the extent of its disabilities and potential suffering—should be discussed, says the Royal College of Obstetricians and Gynaecologists in its evidence to an inquiry by the Nuffield Council on Bioethics, which examines ethical issues raised by new developments.
"The college says the Nuffield's working group should 'think more radically about non-resuscitation, withdrawal of treatment decisions, the best-interests test and active euthanasia as they are means of widening the management options available to the sickest of newborns.'
"The inquiry is looking into 'the ethics of prolonging life in foetuses and the newborn.' Euthanasia was not originally on the agenda, because of its illegality. But the RCOG submission has persuaded the inquiry to broaden its investigation, although any recommendation favouring euthanasia for newborns is highly unlikely before a change in the law...."
The Guardian – November 6, 2006
---
More on the British debate about killing disabled babies...
Neonatal Medicine—The Moral Maze
If Pearl Pope could have held her daughter when she was born, she would have fitted in her hand.
<![if !vml]>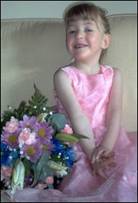 <![endif]>
Heather was given a 10% chance of surviving
"Heather weighed less than 1.5lbs when she was arrived early after just 23 weeks of pregnancy in 2002.
"Doctors gave her a one in 10 chance of surviving. But she was lucky—if she had been born 20 years ago she would have had no chance.
"It is only recently that those born so prematurely have been able to survive.
"Babies such as Heather have benefited from major improvements in neonatal care.
Care
"Doctors say they have become better at ventilating and controlling babies' temperatures.
"Women who are likely to give birth early are also given steroids to help develop the babies' lungs - the last things to properly form before birth.
"There is even talk of an artificial womb being developed which could push back the boundaries even further.
"But these advances come at a price...."
---
"With advances in genetics...discriminating parents will soon be able to select traits in their unborn children."
Results of Secret Nazi Breeding Program: Ordinary Folks
by Mark Landler
"For Guntram Weber, the journey that led to this quaint town of horse-drawn carts and half-timbered houses was long, wrenching, and anything but redemptive.
"Four years ago, Mr. Weber discovered that his father was not, as his mother had told him, a young soldier who died honorably on the battlefield during World War II. Instead, he was a high-ranking SS officer, who oversaw the deaths of tens of thousands of people while stationed in what is now western Poland.
"'He died peacefully in Argentina, with his old comrades standing at his grave and raising their right arms,' Mr. Weber said, his voice thick with anger and grief. 'A racist is forever a racist.'
"As Mr. Weber, 63, told his story to a hushed room of mostly gray-haired men and women here, there were sympathetic nods, but little surprise. Most had their own tales of deceit and discovery, life histories that proved to be homespun fairy tales, the dark truth buried under layers of silence...."
The New York Times – November 7, 2006 (free registration required)
---
The US is a destination of choice for this eugenic use of genetic screening...
Doctors Offer Illegal Baby Sexing
Couples pay £12,000 to get child of choice
"Doctors in Britain are arranging for women to undergo illegal IVF gender selection procedures abroad in order to choose the sex of their babies, an investigation has found.
"Couples with no fertility problems are being charged up to £12,000 to be implanted with embryos of their chosen gender at clinics in Cyprus.
"The service is an apparent attempt to circumvent rules in Britain which ban the selection of embryos by sex except when specifically necessary to avoid passing on gender-related diseases.
"The couples who want a boy or girl in order to 'balance' the sex ratios of their families are told that the procedure is legal in Cyprus. However, it has been banned on the island since 2001 and offenders are liable to up to two years in prison.
"This weekend the Cypriot health minister launched a criminal investigation into the matter, while the country's attorney-general issued a proclamation denouncing the practice as illegal and warning that the doctors and officials involved in Cyprus and Britain—as well as their patients—could face prosecution.
"The disclosure comes as the British government prepares to unveil its plans for overhauling the existing laws on such 'designer baby' procedures. The Department of Health, which has carried out a public consultation, is expected to continue banning clinics from offering non-medical sex selection of embryos...."
The Sunday Times – November 05, 2006
---
If you have bad genes, you can't be part of this family...
First UK Embryo Test Babies Born
The first UK babies have been born after a pioneering embryo test.
<![if !vml]>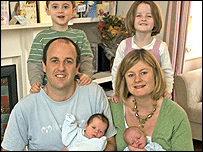 <![endif]>
The Greenstreets with their four children
"Freddie and Thomas Greenstreet were born two weeks ago.
"Their parents Catherine and Jim already have a daughter affected by cystic fibrosis (CF).
"The test, called pre-implantation genetic haplotyping, looks for a genetic 'fingerprint' of a condition, such as CF, sickle cell disease, Duchenne muscular dystrophy, Huntington's disease and spinal muscular atrophy.
"It looks at the whole DNA of a cell from an embryo, rather than focusing on a specific mutation in one gene, making it quicker to spot diseases.
"The researchers also look at genetic clues for the disease in the mother and father. If a certain number are present, it suggests the embryo is affected...."
---
Worth considering...
from An Everlasting Life
by James L. Sauer
Remembering Mary Denise Sauer July 12, 1995—August 26, 1995
Birth Announcement
We are happy to announce that on July 12th, Mary Denise Sauer, 8 lb. 15 oz., was born at Chester County Hospital.
Mary is a special child created by God for his unique purposes. Mary was born with an extra 13th chromosome (Patau syndrome). On the exterior, she has a cleft palate and a scalp lesion. On the interior, a hole in her heart and neurological malformations, which will result in a short life of a few weeks or even months.
The Psalmist says: "Children are a blessing from the Lord." And Mary is a blessing to us. She has already been the focus of prayers, tears, gifts, calls, and acts of charity. Her presence in the world is advancing Christ's kingdom. (Something that, unfortunately, cannot always be said of everyone.)
Mary reminds us of our own helpless, short life; and God's inexpressible love for us in the humanity of Jesus Christ our Savior, God's incarnate Son, "who was conceived by the Holy Spirit...and suffered under Pontius Pilate."
We rejoice that Mary has come to be with us a short time.
I BELIEVE IN GOD THE FATHER, MAKER OF HEAVEN AND EARTH...
Life strikes me as very odd at times....
James L. Sauer, a former Contributing Editor of Touchstone, is the Director of Warner Memorial Library at Eastern College in St. Davids, Pennsylvania. His moving meditation on the birth, life, and death of his daughter Mary is available at the Touchstone archives.
---
---
Living in the Biotech Century is produced, twice monthly, by The Humanitas Project. Please note that after a period of time, some web pages may no longer be available due to expiration or a change of address. Other pages may still be available, but only for a fee.
The views expressed in these resources are not necessarily those of The Humanitas Project. Our goal is to provide access to information from various sides of the debate. Ethically and morally, The Humanitas Project unapologetically defends both human dignity and the sanctity of human life in all contexts, from the vantage point of historic Christianity.
Feel free to forward this e-mail to anyone who might be interested in these issues. To subscribe or unsubscribe to Living in the Biotech Century, visit our website at www.humanitas.org, or e-mail . The Humanitas Project is a 501(c)3 nonprofit organization, and all gifts are tax deductible. For more information on The Humanitas Project, contact Michael Poore, Executive Director, at 931-528-2408 or .