The Humanitas Forum – Andrew Peterson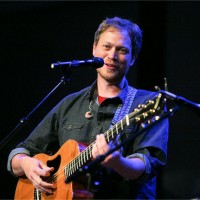 Singer/songwriter, author of Christian fantasy, committed family man—this is Andrew Peterson.  He is an against-the-grain contemporary artist with a passion for home, family, friendship, community, and a certain plot of land (where he lives with his family near Nashville).  He says that "Life is just as much an adventure if you're a family man as it is if you're a pirate on the high seas. Every human you meet is a great mystery, and that includes your wife and children."
We listen to his music and read his books!  Here's an opportunity to meet the man—and pick up music and books, which he'll be happy to sign.
Please join us for an evening with Andrew Peterson!
The Humanitas Forum
on Christianity and Culture
The Story of Us All:
Telling on Ourselves, Telling About Ourselves
Andrew Peterson
Singer, Songwriter, Author
Friday, September 6, 2013 — 7:00 p.m.
School of Nursing and Health Science Building
Auditorium
On the campus of Tennessee Tech
Cookeville, Tennessee
Storytelling and songwriting are autobiography. In fact, every created thing bears the image, in some way, of its creator. Many of us shy away from sharing our own stories because we believe they aren't interesting or relevant when in fact our stories may be one of the most significant things we have to offer to our communities.
From Rich Mullins to Frederick Buechner to J.R.R. Tolkien, Andrew will explore the ways in which honest storytelling has shaped his understanding of the Gospel. In this talk, we'll get a chance to hear Andrew unpack the commitment that guides his craft as a musician and a writer:  "To tell the truth, and to tell it as beautifully as possible."
Andrew Peterson is a singer/songwriter whose solo career has taken him across America as well as to Europe, England, Wales and Scotland.  He is also a member of the Square Peg Alliance, a collaborative group of Christian singer/songwriters who are successfully building a following outside the traditional bounds of the Christian music industry. He is proprietor of the Rabbit Room, a community of songwriters, authors, and artists interested in storytelling, faith, and fellowship. Additionally, Andrew is the author of a series of children's books, The Wingfeather Saga, the last of which (volume 4) should be available early next year. Andrew and his wife Jamie have three children and live just south of Nashville.
The Humanitas Forum is delighted to welcome Campus Outreach at Tennessee Tech as co-sponsor of Andrew Peterson's talk!
Q&A Follows Each Lecture
Admission: Free
Location: Whitson-Hester School of Nursing and Health Science Building Auditorium, Tennessee Tech, West 7th Street and Mahler Avenue, Cookeville, Tennessee
Map:  Go here.  The Nursing Building is at the bottom of the map (building #32).  Parking is at the back of the building.
Time: 7:00 p.m. (doors open at 6:30 p.m.)
Contact: Michael Poore, Director, The Humanitas Forum, (931)239-8735, mpoore@humanitas.org
Website/Blog: www.humanitas.org