Confessing pastoral malpractice…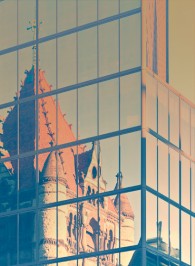 The problem of malpractice is not unique to pastors!  And it's not unique to the current generation of Christians.  One form of malpractice that was common in the early Church was also at the heart of the reformation envisioned by the sixteenth century reformers.
This particular problem can be stated many ways, but one of the most useful and the most common is in terms of the Sunday-to-Monday divide—a dualism that separates the Christian life into two very different compartments.
In a recent article in Leadership Journal, "The Day I Confessed Pastoral Malpractice," Pastor Tom Nelson tells how he came to the painful realization that he had failed to properly equip his parishioners for what they were to do with the majority of their time.
Confession is good for the soul, but it's hard for pastors. At least it was for me. Years ago, I stood before my congregation to make a heartfelt confession. It was indeed difficult to do, yet it would prove transformative for our entire faith community.
More than a decade has passed since that day, but I still remember it clearly. Against a backdrop of pindrop silence, I asked the congregation I served to forgive me. Not for sexual impropriety or financial misconduct, but for pastoral malpractice. I confessed I had spent the minority of my time equipping them for what they were called to do for the majority of their week.
I didn't mean to engage in pastoral malpractice; my pastoral paradigm had been theologically deficient. As a result I had been perpetuating a Sunday-to-Monday gap in my preaching, discipleship, and pastoral care. I blurted out what my heart had been holding back for way too long.
With a lump in my throat, I feebly grasped for the right words. I wanted to confess that because of my stunted theology, individual parishioners in my congregation were hindered in their spiritual formation and ill-equipped in their God-given vocations. Our collective mission had suffered as well. I had failed to see, from Genesis to Revelation, the high importance of vocation and the vital connections between faith, work, and economics. Somehow I had missed how the gospel speaks into every nook and cranny of life, connecting Sunday worship with Monday work in a seamless fabric of Holy Spirit-empowered faithfulness.
Pastor Nelson's rethinking of his ministry was triggered by close attention to one Old Testament word.
This Hebrew word is tome or tamim. We usually translate tome as "blameless." The challenge with this English translation is we often associate blameless with an external ethical perfection. But the Hebrew word actually speaks of a broader concept of ontological wholeness.
From the early pages of the biblical story, we encounter the tome or integrated life as the life God designed for us, the life Jesus would come to a sin-ravaged planet in order to redeem. As a young church planting pastor, this theological framework from the biblical narrative still informed much of my thinking. Yet just a few years into ministry, I began to have a great deal of heart-level dissonance. My own spiritual formation anemic at best, and I was seeing little true transformation in my parish. What I saw behind the nice Sunday smiles was a troubling lack of spiritual maturity, a shallow sanctification shrouding a dangerous disconnect between Sunday belief and Monday behavior.
Something was awry—but what was it? If God had originally designed us to live lives characterized by tome, and if Jesus had gone to the cross to make this kind of life possible, why were so many in my congregation living such fragmented, disconnected lives? Why was our understanding of the gospel not speaking to every area of life? Why was our discipleship not transforming everything we were and did?
Faced with these uncomfortable truths, I began a quest to more fully grasp the kind of holistic faith taught from Genesis to Revelation. I also began to look more closely at Protestant Reformers like Luther and Calvin who not only recovered the authority of Scripture and the gospel of grace, but also connected Sunday to Monday with a rich theology of vocation. Reading the Reformers made me pay closer attention to the bookends of the biblical story—original creation and future consummation. I wrestled deeply with how the gospel tied the entire biblical narrative together. Through prayerful study of the Scriptures, I began to see human vocation as integral and not merely incidental to biblical revelation. I started to grasp that faith, work, and economics were woven together in the fabric of faithful gospel ministry.
As this realization dawned on me, I started to see the Scriptures afresh. Seeing Jesus as a carpenter brought a new fullness to the doctrine of the incarnation and reinforced the dignity of everyday work. Studying the book of Philemon, I began to see more clearly how the gospel transforms not only the worker, but the workplace and work itself.
A transformed vision of ministry required a revaluation of language, discipleship, and pastoral care.
On the day I stood before my congregation, I did more than ask for forgiveness; I promised that, by the grace of God, things were going to change. Our language was going to change. Any hint of language that connoted a sacred/secular dichotomy would disappear. Pastors would affirm everyone's calling and not just their own. We would abandon the language of "full-time ministry" that had previously been reserved for pastoral or missionary work. We would change how we talked about work. In fact, our definition of work was going to change. It would be understood as being about contribution, not merely remuneration. Our discipleship curriculum was going to change. From cradle to grave, our commitment was to equip our parishioners with a robust theology of vocation and to help them see their vocational stewardship as a high priority of gospel faithfulness.
Our pastoral care was going to change, too. Pastors would not only make hospital visits, we would make workplace visits. We would learn about our members' work worlds. We would encourage them in their work, we would pray for their work, and we would celebrate their work. We would see our congregants' work as the primary work of the church. Everyone's work would be regarded as mission.
How have things changed in our local church congregation? Over the years we have seen greater numerical growth and expansion to a multisite presence in our city. But more importantly, we have seen greater spiritual growth and more effective gospel mission. We now teach a robust theology that informs our congregants' work, have a regular liturgy that affirms their work, and make relational investment that applauds their work. We are now deeply committed to equip our congregation for what they are called to do the majority of their lives. Our pastoral staff work hard not only to connect Sunday to Monday, but to bring Monday into Sunday. Our Sunday worship services reflect the reality that the gospel speaks to and transforms all of life including our work, and that the gospel speaks to wealth creation, wise financial management, and economic flourishing.
Sources and Resources:
Pastor Tom Nelson's "The Day I Confessed Pastoral Malpractice" was republished on the website of The Gospel Coalition.  Tom Nelson is the senior pastor of Christ Community Church (EFCA) in Leawood, Kansas.  He is the author of Work Matters: Connecting Sunday Worship to Monday Work.