Cultivating creativity in children…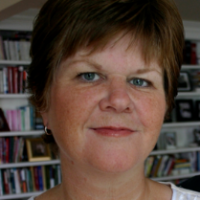 As with many things, G. K. Chesterton got it right on raising young children.  They require being "taught not so much anything as everything."  Instead of specializing—instead of being taught what Chesterton called a "trade"—they need "to be introduced to the world."
Andi Ashworth, author and co-founder of Art House in Nashville, writes that this perspective was what "made raising young children so interesting and full of purpose."
To have a subject matter as big as the whole universe and a work dedicated to opening up the world to a child — these are no small things. The parents' work is primary in this, but the rest of us — whether we be grandparents, aunts and uncles, or good friends — all have a part to play.
Here are some other words of wisdom from this grandmother who credits Chesterton as well as Edith Schaeffer, co-founder of L'Abri Fellowship, for valuable insights on children and creativity.
In this grand vocation of teaching kids about the world, it's important to give careful thought to the environments we create for them to grow up in — grandparents' homes included. Our homes are not neutral places, but rather culture-shaping places. We're helping to form ideas, attitudes, imagination, compassion, and skills. Our little people will one day be big people who take their places in the flow of history. In hundreds of vocational spheres — as mothers and fathers, artists and scientists, shopkeepers and CEOs — our children and grandchildren will grow up to be the culture-makers of their generation.
Creating an environment that nurtures creativity is therefore an intentional work. If imagination and creativity are truly valued in our home, it shows up in the way we live. Most of us would easily agree that kids are inherently curious and creative. We see it all the time. From their earliest years, children's impulses are to ask, imagine, pretend, draw, build, discover, and make. It is their work and pleasure. Yet we make lifestyle choices that can squash this natural behavior. There are two that seem especially potent to me — the rule of convenience and too much screen-time.
One of the quickest ways to kill creativity is to live strictly by the code of speed, efficiency, and convenience — always taking the fastest route to everything, or constantly buying what's pre-made rather than making anything ourselves. There is definitely a place for shortcuts. We all feel the pressure and overload of modern life and are grateful for things that help. Only we can know the demands of our own life and what we need. But if we resist using shortcuts to whatever extent possible, we'll be yielding to that part of ourselves made in the image of God to create, and we'll pass on a way of life to our children that values creating and spending time together over convenience. …
So much is missed if we always choose convenience food over cooking that takes more time. The memories made through cooking together aren't there and that alone is a terrible loss. Kids also miss the opportunity to learn — to practice their counting with each scoop of the measuring cup, to hear about a great-grandmother they never got to meet when her recipes are used, to learn the art of conversation over food they've helped make at a table shared with others, and finally, to learn the art of cooking itself.
Another major contributor to the loss of creativity is screen-time. TV, iPads, iPhones, BlackBerries, and computers all have their undeniable place of importance in our adult lives and can be used for good in the life of a child. But too much of any of these devices dampers the imagination and hinders real-time play. Kids who are dependent on these things lose the inner resources to think and create on their own. Too many DVDs or time spent watching other people's stories on a screen takes away from time spent making up their own games and stories, or acting out their own plays and puppet shows. …
Beyond these two major creativity crushers, Andi offers several ways to cultivate creativity in children.
There is so much we can do to set up environments that draw out the natural curiosity and creative inclinations of a child. Think of the kinds of things that spark imagination and lead to discovery, and resist the temptation to fill in all the blanks. Toys that only involve pushing a button to make something happen don't require anything of a child.  Coloring books are OK in small doses, but blank paper, crayons, colored pencils, pens, or paints allow kids to experiment, to imagine a scene and learn to draw or paint it, advancing at their own pace. Modeling clay is great for the same reason — it's wide open to the imagination, and there are no wrong choices. If you don't have any around, it's easy to make homemade play dough with a few standard ingredients from the pantry. Recipes abound on the Internet.
A good set of wooden blocks (sometimes called kindergarten unit blocks) is a great birthday present for a one-year-old. They'll grow into their building abilities as the months and years add up. Likewise, a basic set of age-appropriate Legos, Lincoln Logs, or Tinker Toys will all provide for years of building — castles, bridges, houses, vehicles, cities, and whatever else a child dreams up. They'll play with them for years and possibly become sophisticated builders along the way!
Dress-up clothes are wonderful to have around. When I was growing up, my grandmother had a special drawer full of old clothes and jewelry she had saved for dress-up play. I can still envision some of the clothes in that drawer and what it felt like to put them on. You can buy all kinds of costumes for kids, but you don't have to. Little ones are just as happy to have very large scarves tied around their necks, flowing out behind them like superhero capes. Their imaginations will make the necessary adjustments!
Books are vital in nurturing imagination and creativity. Well-written children's literature with good illustrations is one of life's great pleasures. Nothing is quite so wonderful as snuggling beside a loved one and being read to, or curling up with a great book and losing yourself in the story. Film is an amazing medium, but books engage the imagination in unique ways that film never can. The listener or reader must imagine the images that correspond to the story in a book. The imagination muscle grows stronger with use.
Children crave stories and develop the vocabulary for their own creativity by being read to, and eventually reading books on their own. Learning to think and communicate well, with access to a larger vocabulary, is a great benefit of reading. In Herself: Reflections on a Writing Life, Madeleine L'Engle writes, "We think because we have words, not the other way around. The more words we have, the better able we are to think conceptually. . . . As a child, when I came across a word I didn't know, I didn't stop reading the story to look it up, I just went on reading. And after I had come across the word in several books, I knew what it meant; it had been added to my vocabulary."
Another way to kindle children's creativity is to put them in the way of inspiring art. Take them to plays, art galleries, botanical gardens, and ballets. The artistry of others will inspire their own creating and sharpen their aesthetic sensibilities. Exposure to the best art in the world changes all of us. We can't walk away unaffected.
Give your children the gift of music. Expose them to a wide variety of musical genres. And dance together. Plan for fun and let whimsy have its way. Some of our best family memories involve multi-generation dance parties. When our kids were growing up we celebrated the End of Summer, New Year's Eve, our twentieth wedding anniversary, Valentine's Day, and Easter, all with parties that included dancing — with our friends, their friends, and our extended family. Nowadays we have spontaneous dances with our grandkids for no reason at all, apart from the beckoning disco ball that hangs in the large room of our house. I am the world's most awkward dancer, but I love the pure and blessed relief of laughter and movement to great music.
Opening the door to our children's creativity often has the added bonus of building a storehouse of good memories for everyone involved. …
Given the opportunity, kids will imagine and create. It's in their DNA. We can encourage a lifestyle of creating and a love of beauty through our own lives and the choices we make. We can show them we value their making by giving them the gift of time in which to daydream, experiment, play outside, develop their gifts, and ultimately find out what matters to them. Like all of us, they need the pure pleasure of creating with no purpose at all other than the sheer joy of the experience. Hands in the bread dough, fingers in the soil of a garden, paint splashed on paper, songs on the lips — these are gifts from God. An artful, creative life is offered to all. It's ours for the making.
Andi Ashworth is a gardener, cook, mother and grandmother.  She is author of Real Love for Real Life: The Art and Work of Caring and is currently at work on her second book.  Andi is co-founder with her husband, musician/producer Charlie Peacock, of Art House America, located in Nashville, Tennessee.  She holds the MA in Theological Studies from Covenant Seminary.