T. S. Eliot on living at the crossroads…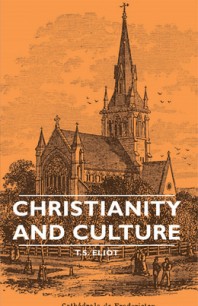 Some seventy years before Michael Goheen and Craig Bartholomew wrote Living at the Crossroads:  An Introduction to Christian Worldview, the poet and culture critic T. S. Eliot could see the complexities and challenges of living in a modern secular society.
The problem of leading a Christian life in a non-Christian society is now very present to us. … It is the problem constituted by our implication in a network of institutions from which we cannot dissociate ourselves: institutions the operation of which appears no longer neutral, but non-Christian. And for the Christian who is not conscious of his dilemma—and he is in the majority—he is becoming more and more de-Christianised by all sorts of unconscious pressure: paganism holds all the most valuable advertising space. … [I]n the modern world, it may turn out that the most intolerable thing for Christians is to be tolerated.  (Idea, 21-23)
The Idea of a Christian Society (1939)
"The Idea of a Christian Society" and "Notes towards the Definition of Culture," T. S. Eliot's most important essays of cultural criticism, are available in Christianity and Culture.