Living words in the mouths of those who have a living faith…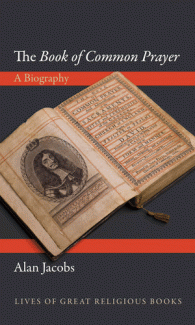 Birthed in an age of political intrigue and religious reformation, the Book of Common Prayer has had a long and influential as well as complicated life.  Even after almost 500 years, its influence on Christian worship is "a big deal," according to Alan Jacobs.  And as a guide to evangelical worship and doctrine, it very likely has something important to offer those of us who are evangelical but not Anglican—that is, those of us willing to take the trouble.
In The "Book of Common Prayer": A Biography, Jacobs sketches the life of one of the most significant books in the history of the post-Reformation church.  The vision for the 1549 prayer book and its 1552 revision was a unified liturgical order for reformed worship in English.  Thomas Cranmer, the primary author and Archbishop of Canterbury, produced his prayer book during the short reign of the Protestant king Edward VI.
Cranmer's book, and its direct successors will always be acknowledged as historical documents of the first order, and masterpieces of English prose, but this is not what they want or mean to be. Their goal–now as in 1549–is to be living words in the mouths of those who have a living faith.
In a recent interview with Christianity Today, Alan Jacobs provides a good short summation of both the history and the prospects for the Book of Common Prayer.
The Catholic past—continuities and changes
Cranmer strove to maintain as much continuity with traditional forms of worship as he could, given his commitments to the Reformation. So in the liturgies themselves there is little that a medieval Catholic Christian could find fault with—except that they are in English, which traditionalists thought would distract the congregation from the private devotions they customarily pursued during Mass.
The key differences, I think, lie in two other areas. First, in what Cranmer took away: for instance, the whole panoply of devotion to the saints was cut back tremendously, leaving the saints' days still in place but emphasizing that they are examples to be followed rather than intercessors. 
Second, and for Cranmer most important, is the strong emphasis on a lectionary that took people through the whole Bible—and, if people went to Morning and Evening Prayer, read through the whole of the books of Psalms each month. Cranmer wanted the literate to read the Bible thoroughly and faithfully, and for the illiterate to hear it read every day. (Thus also his emphasis in the prayer book rubrics on the importance of the priests reading the liturgy itself and the Bible readings "in a loud voice.")
Saturation in Scripture was Cranmer's primary goal for the people of England, and I don't think you can get more evangelical than that! …
Affirming an Evangelical essential
In making his prayer book, Thomas Cranmer wanted to make sure that the people of England were constantly exposed to Holy Scripture in a language they understood, working through the whole of the Bible regularly and the Psalms every month, while following a calendar that rehearsed in every church year the whole story of salvation starting with the Fall and culminating in Christ's unique sacrifice of himself on the Cross and his glorious resurrection, the benefits of which we are not worthy to receive on any merits of ours—"we are not worthy so much as to gather up the crumbs from under Thy table"—but only through the purest grace extended on the basis of Christ's unique status as Lord and Savior.
How can you get any more evangelical than that? …
The extensive reach of the Anglican Book of Common Prayer
[T]he reach of the BCP is more extensive than one might think. It has relatively direct connections to Methodist and Lutheran worship. And the liturgical scholarship that, in the early 20th century, went into possible revisions of the Church of England's 1662 book eventually made its way not only into modern Anglican prayer books but even had an influence on liturgical developments in the Roman Catholic Church, especially when vernacular Masses were approved at Vatican II.
And then, of course, the BCP's rite for Holy Matrimony has spread throughout the English-speaking world. I was once a groomsman in a Unitarian wedding that used it—though with all Trinitarian references gently excised.
A prayer book for one place and one time?
Thomas Cranmer wanted one book and one liturgical "use" for one country. He wanted English folk to be able to go into any church in England on any given day and experience the same worship service in the same words. For a long time this desire of Cranmer's was indeed realized—and more, it was possible to go into what came to be known as "Anglican" churches all over the world and hear the same beautiful cadences, which was something I doubt Cranmer ever expected. He was making a prayer book for his country, and expected that Christian worship in other countries would develop in varying ways according to those places' liturgical requirements.
And indeed this is what happened. Every Anglican province in the world eventually decided that it needed its own prayer book—and as time went by and the English language altered and took various forms in various places, Anglicans felt that they needed to update those books. I don't think that any of this would have surprised or even disappointed Cranmer—but it is a little sad nonetheless, because there is for many of us satisfaction in saying the same words that our predecessors in the Christian faith said. Any nostalgia I feel for that old prayer book is closely related to the way many Catholics feel about the old Latin Mass, or many Christians throughout the English-speaking world feel about the King James Bible.
Cranmer himself would, I'm sure, understand this nostalgia. But he would probably urge us to get over it.
"The Book of Common Prayer Is Still a Big Deal," Jordan Hylden's interview of Alan Jacobs, is available at the Christianity Today website.