The Great Divorce with Anthony Lawton…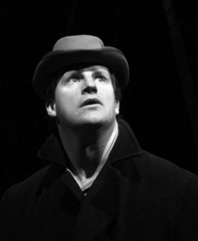 Anthony Lawton will make you laugh.  He will make you think.  He will also make you examine your own soul as he portrays the rationalizations and self-deceptions used to refuse Heaven. 
Anthony's masterful performance combines with his faithful adaptation of Lewis's The Great Divorce to produce an evening of spiritual insight and challenge.  Using a wide range of dialects—from Cockney to American Midwestern to Scottish—Anthony Lawton brings to life over a dozen characters in his one-man stage adaptation of Lewis's classic.  "Now this is storytelling," says the Philadelphia Inquirer.
C. S. Lewis's
The Great Divorce
A one-man play
adapted and performed
by
Anthony Lawton
September 20, 2012 ~ 7 p.m.
Cookeville Performing Arts Center
Tickets: 

Sales start August 31.  In person at the CPAC Box Office, 10 East Broad Street, Cookeville, 9 am -5 pm Monday through Friday or by phone 931-528-1313 with MasterCard or VISA.

Individuals $15; Couples $25; Student $10; Family $45; Children 13 and under free, over 13 count as a student; Family includes couple and all children living at the same address.

Details:

One act, approx. 80 minutes, short Q&A with Mr. Lawton following the performance

Contact:

Michael Poore, Director, The Humanitas Forum, (931) 239-8735, mpoore@humanitas.org

Website:

www.humanitas.org