Sounding out the idols of the American church…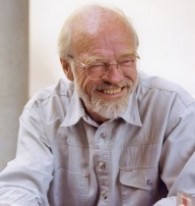 I don't want to suggest that those of us who are following Jesus don't have any fun, that there's no joy, no exuberance, no ecstasy. They're just not what the consumer thinks they are. When we advertise the gospel in terms of the world's values, we lie to people. We lie to them, because this is a new life. It involves following Jesus. It involves the Cross. It involves death, an acceptable sacrifice. We give up our lives.
The Gospel of Mark is so graphic this way. The first half of the Gospel is Jesus showing people how to live. He's healing everybody. Then right in the middle, he shifts. He starts showing people how to die: "Now that you've got a life, I'm going to show you how to give it up." That's the whole spiritual life. It's learning how to die. And as you learn how to die, you start losing all your illusions, and you start being capable now of true intimacy and love. …
[The church is in trouble when it joins] the consumer world, and everything then becomes product designed to give you something. We don't need something more. We don't need something better. We're after life. We're learning how to live.
I think people are fed up with consumer approaches, even though they're addicted to them. But if we cast the evangel in terms of benefits, we're setting people up for disappointment. We're telling them lies.
This is not the way our Scriptures are written. This is not the way Jesus came among us. It's not the way Paul preached. Where do we get all this stuff? We have a textbook. We have these Scriptures and most of the time they're saying, "You're going the wrong way. Turn around. The culture is poisoning." Do we realize how almost exactly the Baal culture of Canaan is reproduced in American church culture? Baal religion is about what makes you feel good. Baal worship is a total immersion in what I can get out of it. And of course, it was incredibly successful. The Baal priests could gather crowds that outnumbered followers of Yahweh 20 to 1. There was sex, there was excitement, there was music, there was ecstasy, there was dance. "We got girls over here, friends. We got statues, girls, and festivals." This was great stuff. And what did the Hebrews have to offer in response? The Word. What's the Word? Well, Hebrews had festivals, at least! …
It's the biggest word we have—salvation, being saved. We are saved from a way of life in which there was no resurrection. And we're being saved from ourselves. One way to define spiritual life is getting so tired and fed up with yourself you go on to something better, which is following Jesus.
But the minute we start advertising the faith in terms of benefits, we're just exacerbating the self problem. "With Christ, you're better, stronger, more likeable, you enjoy some ecstasy." But it's just more self. Instead, we want to get people bored with themselves so they can start looking at Jesus.
We've all met a certain type of spiritual person. She's a wonderful person. She loves the Lord. She prays and reads the Bible all the time. But all she thinks about is herself. She's not a selfish person. But she's always at the center of everything she's doing. "How can I witness better? How can I do this better? How can I take care of this person's problem better?" It's me, me, me disguised in a way that is difficult to see because her spiritual talk disarms us.
These excerpts are from "Spirituality for All the Wrong Reasons," an interview with Eugene Peterson.  The interview, by Christianity Today editor Mark Galli, was published in March 2005.