Holiness is the sum of a million little things…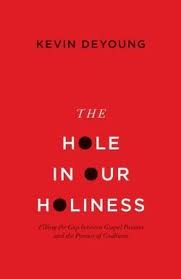 In our age of "awesome" and "cool," some words get distorted while others get ignored.  "Awesome" is an overused adjective that has become meaningless because it's used to describe everything.  Holiness, though, is one of those words that gets ignored. 
"The hole in our holiness," according to Kevin DeYoung, "is that we don't care much about it."  In his recent book, The Hole in Our Holiness, he rightly points out that Christians think the keys to spiritual success are "relevance and relate-ability."  But the dying world needs us to get with God rather than "get with it"—it needs Christian character more than "cool" Christians.
Holiness is the sum of a million little things — the avoidance of little evils and little foibles, the setting aside of little bits of worldliness and little acts of compromise, the putting to death of little inconsistencies and little indiscretions, the attention to little duties and little dealings, the hard work of little self-denials and little self-restraints, the cultivation of little benevolences and little forbearances. Are you trustworthy? Are you kind? Are you patient? Are you joyful? Do you love? These qualities, worked out in all the little things of life, determine whether you are blight or blessing to everyone around you…
Christian character is shaped in these millions of little ways as we grow by the Spirit into the likeness of Christ—"It is of small things that a great life is made up."  Few are called to become martyrs or to change the world, but we're all called to a godly life.
Kevin DeYoung provides a footnote to acknowledge that his reflections on "small things" are indebted to the writing of 19th century Scottish pastor Horatius Bonar.
It is of small things that a great life is made up; and he who will acknowledge no life as great save that which is built up of great things, will find little in Bible characters to admire or copy.
These specific references are to "The True Creed & the True Life," Chapter 8 of Bonar's book, God's Way of Holiness.