How were Adam and Eve like the postmodernists?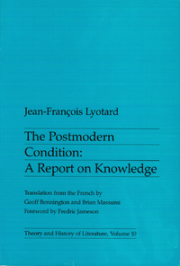 Postmodernism is defined as "incredulity toward metanarratives"—big stories can't be trusted and must be regarded with suspicion.  Comprehensive explanations of the flow of history and of how things work are regarded with skepticism.  Thus, postmodern thought cuts against both ideologies (Marxism) and revealed religion (Christianity).
In a talk at Penn State University, Christian apologist Ravi Zacharias briefly addressed two other aspects of postmodernism, its relationship to the past and the drive to deconstruct any and all metanarratives.  His comments came in response to a question about possible similarities between postmodern ideas and the ideas of the ancient Greeks.
Ravi Zacharias – Penn State University
Ravi Zacharias is a Christian apologist who has spoken all over the world—in venues ranging from local churches to the White House to Harvard and Cambridge Universities.  He is the author of several books, including Can Man Live Without God?and Light in the Shadow of Jihad.  He is the founder and chairman of the board of Ravi Zacharias International Ministries and the host of two radio programs, Let My People Think and Just Thinking.   Additionally, he currently serves as Senior Research Fellow at Wycliffe Hall, Oxford University in Oxford, England.