What makes a good preacher?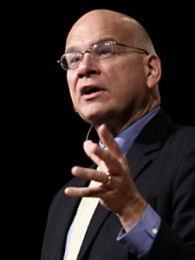 Sound, expository preaching is not a "magic bullet."  It is a necessary but not sufficient requirement for being a good minister of the Gospel.  This is the argument made by Manhattan (New York) pastor Tim Keller.  While his comments are addressed to preachers in the Reformed tradition, it's safe to say that they are an accurate description of preachers across the wider Evangelical tradition.
Here are a few of his observations, lightly edited to apply more broadly across Evangelicalism.
Pastors in many of our … churches do not seem to be as energized to learn to be great leaders and shepherds, but rather have more of an eye to being great teachers and preachers. …
We may think that as long as we are preaching the Word—preaching the law and the gospel rightly—that everything else in congregational life will somehow take care of itself. We may give lip service to the other two marks of the church—the administration of the sacraments and discipline—but we don't give them proper weight. Fully considered, the administration of the sacraments includes pastoral care, education, and discipleship, while the ministry of discipline means rightly ordering the community, that is, pastoral leadership. …
I pastor a church with a large staff and so I give 15+ hours a week to preparing the sermon. I would not advise younger ministers to spend so much time, however. When I was a pastor without a staff I put in 6-8 hours on a sermon. If you put in too much time in your study on your sermon you put in too little time being out with people as a shepherd and a leader. Ironically, this will make you a poorer preacher. …
It is only through doing people-work that you become the preacher you need to be—someone who knows sin, how the heart works, what people's struggles are, and so on. Pastoral care and leadership (along with private prayer) are to a great degree sermon preparation. More accurately, it is preparing the preacher, not just the sermon. Through pastoral care and leadership you grow from being a Bible commentator into a flesh and blood preacher.
The rest of Tim Keller's "Preacher-Onlys Aren't Good Preachers" can be found here.