Shows about nothing — nihilism in popular culture…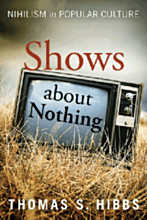 Cape Fear, The Exorcist, Pulp Fiction, The Ice Storm, and American Beauty are on the syllabus of a course taught by philosopher Thomas Hibbs at Baylor University.  Nihilism in American Culture also includes readings from writers such as Friedrich Nietzsche, Walker Percy, Cornell West and Pope John Paul II.
For those of us who can't be among the large number of students who regularly take Dr. Hibbs' class, his book, Shows About Nothing: Nihilism in Popular Culture, is the next best thing to being there.
One of my goals for the course is to render students incapable of watching TV and film in the passive, mildly vegetative state to which they are accustomed. …
I want to get them to think critically about Hollywood's products, to see the way Hollywood draws out the logical implications of what is often just beneath the surface of American life.
Nihilism is "the philosophy or state of life characterized by a lack of meaning or purpose," Hibbs writes in Shows About Nothing.
Nihilism means that there is no basis for distinguishing between good and evil, better and worse, noble and base.  It undermines not just traditional religious belief but any normative claims. …
Nihilistic movies are morally and spiritually destitute.
These are stories in which conventional morality is depicted as bankrupt and in which there is no possible recourse beyond convention to, say, nature or God that could be the basis of moral deliberation and the discovery of meaning and purpose.  Simply featuring a single character of even a series of characters who embody nihilism is insufficient to label the story itself as nihilistic.  The story itself has to rule out the possibility of some basis upon which the audience might see beyond nihilism.
For anyone interested in understanding how the portrayal of evil in American film advances nihilistic undercurrents in contemporary culture, Shows About Nothing is must reading.  Or, for that matter, it is required reading for anyone interested in making sense of American popular culture more broadly.
Dr. Hibbs provides an excellent overview of the book in a conversation with Ed Driscoll at PJ Media.  Here's a list of topics discussed.
·         How post-WWII Hollywood originally explicitly rejected Nietzsche and nihilism, before ultimately embracing him with open arms.
·         Why horror movies eventually eradicated God for charming nihilists who fashion their morality as "beyond good and evil," such as Dr. Hannibal Lecter.
·         Seinfeld: the sunny side of nihilism.
·         How man successfully threw off the encumbrances of authority and tradition only to find himself subject to new, more devious, and more intractable forms of tyranny.
·         How aesthetics came to usurp morality.
·         Mad Men's Don Draper: the man in the gray nihilistic suit.
·         Can Hollywood move beyond nihilism?
PJ Media's interview with Thomas Hibbs on 'Shows About Nothing' is available here.
Dr. Thomas S. Hibbs is Distinguished Professor of Ethics & Culture and Dean of the Honors College at Baylor University.  In addition to scholarly books and Shows About Nothing, Dr. Hibbs is the author of Arts of Darkness: American Noir and the Quest for Redemption.  He has also written for Christianity Today, Books and Culture, The New Atlantis, and First Things.