Responding to a legacy of Christian anti-intellectualism…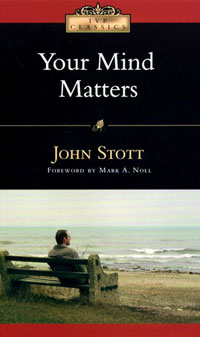 Your Mind Matters is a small book written by John R. W. Stott in reaction to the problem of Christian anti-intellectualism.  Stott asks, "Why should Christians use their minds?"
The absence of thinking Christians and Christian thinking (on many important issues) was brought to the fore by a student of C. S. Lewis in the 1960s.  "There is no longer a Christian mind" is the first sentence of The Christian Mind:  How Should A Christian Think? by Harry Blamires.
Stott's contribution to the discussion (1972) provided a corrective for a problem that continues to plague the church today.  The "mindless Christianity" that he described in Chapter 1 had, and has, several characteristics.
1.       Zeal without knowledge;
2.      A pragmatism that asks "Does it work?" rather than "Is it true?";
3.      Christian activism;
4.      An anti-intellectualism that views theology with distate and distrust.
Stott's rejoinder is not a brief for "a cold, joyless, intellectual Christianity."
I am not pleading for a dry, humorless, academic Christianity, but for a warm devotion set on fire by truth.  I long for this biblical balance and the avoidance of fanatical extremes.  I shall urge that the remedy for an exaggerated view of the intellect is neither to disparage it, nor neglect it, but to keep it in its God-appointed role.
Stott goes on to present a case for a "thinking Christianity" that is built on the doctrines of creation, revelation, redemption, and judgment.
·         Creation – God made man in his own image, and one of the noblest features of the divine likeness in man is his capacity to think. … This basic rationality of man by creation is everywhere taken for granted [in Scripture]. … [T]he fact that man's mind is fallen is no excuse for a retreat from thought into emotion, for the emotional side of man's nature is equally fallen. …
·         Revelation – The simple and glorious facts that God is a self-revealing God and that he has revealed himself to man indicate the importance of our minds.  For all God's revelation is rational revelation, both his general revelation in nature and his special revelation in Scripture and in Christ. …
·         Redemption – God has achieved [redemption] through the death and resurrection of Jesus Christ.  Having achieved it through his Son, he now announces it through his servants.  … Now redemption carries with it the renewal of the divine image in man, which was distorted by the Fall.  This includes the mind. …
·         Judgment – For if one thing is clear about biblical teaching on the judgment of God, it is that he will judge us by our knowledge, by our response (or lack of response) to his revelation. … It is a solemn thought that by our anti-intellectualism, in which we either refuse or cannot be bothered to listen to God's word, we may be storing up for ourselves judgment of Almighty God.
Stott sums up his brief discussion this way.
God has constituted us thinking beings; he has treated us as such by communicating with us in words; he has renewed us in Christ and given us the mind of Christ; and he will hold us responsible for the knowledge we have.
Perhaps the current mood (cultivated in some Christian groups) of anti-intellectualism begins now to be seen as the serious evil that it is.  It is not true piety at all but part of the fashion of the world and therefore a form of worldliness.  To denigrate the mind is to undermine foundational Christian doctrines.  Has God created us rational beings, and shall we deny our humanity which he has given us?  Has God spoken to us, and shall we not listen to his words?  Has God renewed our mind through Christ, and shall we not think with it?  Is God going to judge us by his Word, and shall we not be wise and build our house on this rock?
John Stott's Your Mind Matters: The Place of the Mind in the Christian Life can be purchased in hard copy here.  It is available online in pdf here.
John R. W. Stott, who died in 2011, was a British pastor and worldwide leader of Evangelical Christians.  In 2005, Time magazine listed Stott among the 100 most influential people in the world.  The author of numerous books, Stott's The Cross of Christ is widely considered a classic study of the central theme of the Christian faith.