Kicking Evangelicals off university campuses…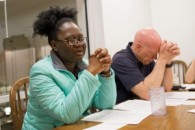 Requiring campus student leaders to be converts to Christianity can get a ministry kicked off campus at some schools.  Sadly, an increasing number of universities and colleges are requiring Evangelical campus groups to open their leadership roles to all comers, regardless of their faith commitments.
The Bowdoin Christian Fellowship, an InterVarsity chapter, has just lost official recognition after 40 years of serving students on the Brunswick, Maine campus.  They found that meeting requirements of the Bowdoin College non-discrimination policy would make "faithful Christian witness impossible."
In a recent update at First Things, Robert Gregory tells the Bowdoin Christian Fellowship story.
Bowdoin told us to go
For the past decade, my wife and I have been the volunteer advisors to the Bowdoin Christian Fellowship (BCF). As reported last week in the New York Times, that relationship will soon come to an end because of Bowdoin's demand that the fellowship adopt a non-discrimination policy that makes impossible faithful Christian witness. …
It is curious to be accused of advocating for discrimination. My wife and I were prison ministers in the late 1970's, pastors of a Cambodian church involved in resettling refugees from Pol Pot in the early 1980's; we travelled to the Cambodian border to visit them in UN refugee camps, pastors of a Chinese immigrant church in the 1990's with refugees fleeing human rights abuse in China, and I am currently an asylum trial lawyer for victims of the Rwandan genocide in 1994. …
Limiting the first freedom, religious liberty
Bowdoin's policy comes in the wake of an emerging body of law permitting private and state universities to enforce an all-comers policy on leadership in all student groups. This means that even a student who rejects Christian teaching—on anything from the Trinity, to the Bible, to sexual chastity—can be made a student leader. The Supreme Court's ruling in Hastings Christian Fellowship v. Martinez, 2010, allows universities to shape student organizations according to the prevailing culture of these institutions, even when doing so would prevent student organizations from adhering to a different view of the world, including one shaped by the teachings and practices of the Gospel of Jesus Christ. …
As a lawyer, I understand the legal arguments which would push back against these trends. I believe in the First Amendment liberties of College students, the contract rights of students to have their student fees applied to religious associations of their own choice, and equal access for Christian students when other religious groups are favored with special privileges such as kosher kitchens. But such arguments can distract us from the real peril. Too much ground has been conceded over recent years in purchasing a "seat at the University table" at the expense of confusing the broad invitation of the Gospel to all comers (what I have described to my students as the wide end of the funnel) with the narrow demands of Christian discipleship for those who are called to enter (that is, the narrow end of the funnel). …
Fighting for the right to discriminate (to discern)
So why do we argue for the right to discriminate?
English translations of the Bible do not use the term "discriminate." The word is found in no modern translation of the Bible. But the term with the same Latin root (discernere) is core to Christian teachings. And discernment, of course, is one of the mandates of Christian discipleship as we try to discern what is pleasing to the Lord (Ephesians 5.10). Paul writes in Romans 12.1-2:
I beseech you therefore, brethren, by the mercies of God, to present your bodies a living sacrifice, holy, acceptable to God, which is your reasonable service. Do not be conformed to this world, but be transformed by the renewal of your mind, that by testing you may discern what is the will of God, what is good and acceptable and perfect.
Were the Bowdoin Christian Fellowship to agree to the College policy of non-discernment, it would forfeit the means of forming, holding, and making public the Christian beliefs it was trying to preserve.  In a word, one cannot both affirm the non-discrimination policy of the College which rejects doctrinal statements, and then plead for the College to give the freedom to require leaders to affirm in behavior and belief the doctrinal statement so rejected. …
In the New York Times article referred by Robert Gregory above, "Colleges and Evangelicals Collide on Bias Policy," the author gives a bit of history and suggests that the tide may be turning against Evangelical campus ministries.
In a collision between religious freedom and antidiscrimination policies, the student group, and its advisers, have refused to agree to the college's demand that any student, regardless of his or her religious beliefs, should be able to run for election as a leader of any group, including the Christian association.
Similar conflicts are playing out on a handful of campuses around the country, driven by the universities' desire to rid their campuses of bias, particularly against gay men and lesbians, but also, in the eyes of evangelicals, fueled by a discomfort in academia with conservative forms of Christianity. The universities have been emboldened to regulate religious groups by a Supreme Court ruling in 2010 that found it was constitutional for a public law school in California to deny recognition to a Christian student group that excluded gays.
At Cal State, the nation's largest university system with nearly 450,000 students on 23 campuses, the chancellor is preparing this summer to withdraw official recognition from evangelical groups that are refusing to pledge not to discriminate on the basis of religion in the selection of their leaders. And at Vanderbilt, more than a dozen groups, most of them evangelical but one of them Catholic, have already lost their official standing over the same issue; one Christian group balked after a university official asked the students to cut the words "personal commitment to Jesus Christ" from their list of qualifications for leadership.
At most universities that have begun requiring religious groups to sign nondiscrimination policies, Jewish, Muslim, Catholic and mainline Protestant groups have agreed, saying they do not discriminate and do not anticipate that the new policies will cause problems. Hillel, the largest Jewish student organization, says some chapters have even elected non-Jews to student boards.
The evangelical groups say they, too, welcome anyone to participate in their activities, including gay men and lesbians, as well as nonbelievers, seekers and adherents of other faiths. But they insist that, in choosing leaders, who often oversee Bible study and prayer services, it is only reasonable that they be allowed to require some basic Christian faith — in most cases, an explicit agreement that Jesus was divine and rose from the dead, and often an implicit expectation that unmarried student leaders, gay or straight, will abstain from sex.
"It would compromise our ability to be who we are as Christians if we can't hold our leaders to some sort of doctrinal standard," said Zackary Suhr, 23, who has just graduated from Bowdoin, where he was a leader of the Bowdoin Christian Fellowship.
The consequences for evangelical groups that refuse to agree to the nondiscrimination policies, and therefore lose their official standing, vary by campus. The students can still meet informally on campus, but in most cases their groups lose access to student activity fee money as well as first claim to low-cost or free university spaces for meetings and worship; they also lose access to standard on-campus recruiting tools, such as activities fairs and bulletin boards, and may lose the right to use the universities' names.
"It's absurd," said Alec Hill, the president of InterVarsity, a national association of evangelical student groups, including the Bowdoin Christian Fellowship. "The genius of American culture is that we allow voluntary, self-identified organizations to form, and that's what our student groups are."
Some institutions, including the University of Florida, the University of Houston, the University of Minnesota and the University of Texas, have opted to exempt religious groups from nondiscrimination policies, according to the Christian Legal Society. But evangelical groups have lost official status at Tufts University, the State University of New York at Buffalo and Rollins College in Florida, among others, and their advocates are worried that Cal State could be a tipping point.
Robert Gregory's First Things article, "Bowdoin Told Us to Go," is available online.
"Colleges and Evangelicals Collide on Bias Policy," published June 9, 2014, by the New York Times is also online.