Profiling a church that mostly attracts the under-thirty crowd…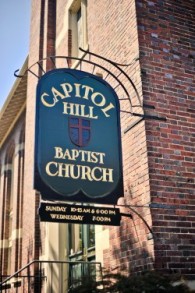 It goes against the grain of church marketing.  There is no praise band and no PowerPoint for either the sermon or the music.  The sermons are long, really long!  But the typical Sunday congregation is mostly young people — somewhere around 70% are under age 30.
Here's a profile of Capitol Hill Baptist Church, just minutes from the nation's capitol in Washington, DC.
·         A traditional sanctuary with long, wooden pews.
·         A 16-page church bulletin detailing the order of service (Including:  songs with both lyrics and music; the Nicene Creed, with an explanation of its history and meaning; etc.).
·         Congregational singing (vs. performed music) that includes both old and the new songs.
·         Four 5-minute prayers.
·         Long, expositional sermons that run to one hour.
·         A two-plus hour service.
·         No PowerPoint for singing or preaching.
Most of the info above was taken from Meredith Flynn's "You'll never believe what's drawing Millennials to church…."
For more info on Capitol Hill Baptist, a good place to begin is the "What to Expect on Sunday Morning" page on their website.  The ministry of pastor Mark Dever goes well beyond Capitol Hill Baptist. He is president of 9Marks, an organization dedicated to building "biblically faithful churches in America."