Staying Christian in college, some sage advice…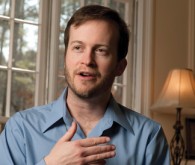 College can be a hazardous place for the faith of young Christians.  There are numerous resources that provide wise counsel to the entering freshman.  Here are two of the better ones:  How to Stay Christian in Collegeby J. Budziszewski and The Fabric of Faithfulness by Steven Garber.
Several years ago, writer Timothy Dalrymple distilled several pieces of sage advice from his many years in the academy—at Stanford University, Princeton Theological Seminary and Harvard University—and published them at his blog in "An Open Letter to College Freshman."  All wise counsel for the young collegian as well as the rest of us!
Seek wisdom, not merely intelligence.
On a university campus, intelligence is common.  Wisdom is rare.  …
Seek mentors, not merely teachers.
Intelligent people are dazzling and engaging — and a dime a dozen.  The fascination wears off.  Colleges and universities are replete with intelligent fools, because academia worships the intelligent.  …  Seek out people of wisdom.  …
Seek the truth, not merely prevailing opinion.
[M]ost true things have already been explained and defended well; but in order to make your name as a scholar, you have to publish and push the envelope, which means you have to explain and defend new theses.  So there's an intrinsic bias within the academic system toward the novel and the sensational, toward that which challenges tradition.  …
Seek answers, not merely questions.
You may hear the opposite in the freshman orientation process.  "It's not the answers but the questions that matter," they might say, "not the verities but the inquiries, not the destination but the journey."  …
Seek betterment, not merely achievement.
If you're faithful with your classes, you'll receive your education and training.  But if you're faithful with the other opportunities college affords you, your horizons, your sensibilities, your sense of yourself and your world will expand exponentially.  The important corollary here is that you should not do those things that diminish you or enslave you to addictions.  No decision is isolated.  …
Seek fellowship, not merely friends.
The best and most important part of my Stanford experience, by far, was the Christian fellowship to which I belonged.  It's a great joy to be surrounded by people your age, people like yourself, who love God and seek to live their lives according to his Word.  …
Seek first the kingdom and righteousness of God.
Plunge deeply into the life of the mind, and savor the beauty and the rhythms and richness of the scholarly life.  Immerse yourself in friendship and fellowship and commit to learn from one another.  Enjoy the sports contests and the public lectures and study abroad.  Explore all the idiosyncrasies of your school and community, the traditions and hidden treasures.  And learn how to love and be loved by a significant other.  …
Just make sure you major in the majors and minor in the minors.  Remember your first love, remember who is the Way and the Truth and the Life, seek him, and the rest will work itself out.  "Delight yourself in the Lord and he will give you the desires of your heart" (Ps 37:4).  "In all your ways acknowledge him, and he will direct your paths" (Proverbs 3:6).  Whether your college years bring you hardship and misfortune or flourishing and joy, or more likely both, seek God through it all.  Probably the most important thing I learned in my college years came when I broke my neck in a gymnastics accident, and I learned in truth that nothing could separate me from the love of God that is in Christ Jesus (Romans 8:38).  God's gracious communion is the one thing needful.  No matter what else might be taken from you, if you have that, then you have enough and more than enough.  The goods of the world will come and go.  Yet the peace and the joy of your fellowship with God through faith in Jesus Christ will endure forever.
Live for that fellowship, live in it, and live out of it.  In the end, the rest are details.
Timothy Dalrymple is managing editor for the Evangelical portal at Patheos.com. He is a graduate of Stanford University, Princeton Theological Seminary and Harvard University. A former elite gymnast whose career ended when he broke his neck in warm-ups for a competition, Dr. Dalrymple has written and spoken broadly on faith and sports issues.
Sources and resources:
·         "An Open Letter to a College Freshman" by Timothy Dalrymple
·         How to Stay Christian in Collegeby J. Budziszewski
·         The Fabric of Faithfulness by Steven Garber