The fastest growing religion in the world is …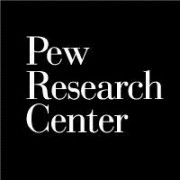 Pure and simple, the future is the great unknown.  But the Pew Research Center's "The Future of World Religions" should be taken seriously—given the massive amount of research that went into the report.  In sum, religion is not dying out as some of modernity's prophets predicted.  Rather, all major religions are projected to grow with the exception of Buddhism.
Here are some of the Pew projections, assuming current trends continue until 2050.
·         The number of Muslims will nearly equal the number of Christians around the world.
·         Atheists, agnostics and other people who do not affiliate with any religion – though increasing in countries such as the United States and France – will make up a declining share of the world's total population.
·         The global Buddhist population will be about the same size it was in 2010, while the Hindu and Jewish populations will be larger than they are today.
·         In Europe, Muslims will make up 10% of the overall population.
·         India will retain a Hindu majority but also will have the largest Muslim population of any country in the world, surpassing Indonesia.
·         In the United States, Christians will decline from more than three-quarters of the population in 2010 to two-thirds in 2050, and Judaism will no longer be the largest non-Christian religion. Muslims will be more numerous in the U.S. than people who identify as Jewish on the basis of religion.
·         Four out of every 10 Christians in the world will live in sub-Saharan Africa.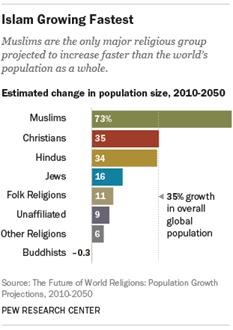 The report also contained region specific data.  Here's the summary for North America.
In North America, Muslims and followers of "other religions" are the fastest-growing religious groups. In the United States, for example, the share of the population that belongs to other religions is projected to more than double – albeit from a very small base – rising from 0.6% to 1.5%. Christians are projected to decline from 78% of the U.S. population in 2010 to 66% in 2050, while the unaffiliated are expected to rise from 16% to 26%. And by the middle of the 21st century, the United States is likely to have more Muslims (2.1% of the population) than people who identify with the Jewish faith (1.4%).
The 245-page report includes a helpful section explaining the assumptions that guided the massive research project, which is now six years old and ongoing.
The projections are what will occur if the current data are accurate and current trends continue. But many events – scientific discoveries, armed conflicts, social movements, political upheavals, natural disasters and changing economic conditions, to name just a few – can shift demographic trends in unforeseen ways. That is why the projections are limited to a 40-year time frame, and subsequent chapters of this report try to give a sense of how much difference it could make if key assumptions were different.
The Pew Research Center's The Future of World Religions: Population Growth Projections, 2010-2050 was published on April 2, 2015 and is available online